A WordPress site is perhaps the world's most loved CMS platform, and for all the right reasons. Search engine optimization is a crucial strategy that's required for your WordPress website's effective performance. Additionally, there are many ways to boost your SERP ranking and get ahead of competing websites.
So, while WordPress is usually simple to use and a good host can speed up your SEO rankings, why not look into the universe of WordPress SEO plugins?
What are SEO plugins for WordPress?
Plugins are applications with many features that can help maximize a program's capabilities. The same applies to SEO plugins for WordPress as they enhance your WordPress website's performance and functionality.
These are made of PHP codes and may include other elements like CSS, images, and JavaScript.
Moreover, WordPress plugins can optimize your content and other website elements for search engines to index and crawl. These SEO plugin tools range from helping you with fonts to mapping your website traffic and are created by different companies and individuals in the WordPress community for added features.
Do you need SEO plugins for WordPress?
WordPress doesn't necessarily require SEO plugins to function and hence you can very well optimize your web pages and content without them.
So, if you're already versed with the fundamentals of SEO and keep updating yourself with algorithm changes, you can do well even without any WordPress SEO plugin.
But then why install those Plugins anyway?
Well, SEO plugins usually roll out ideas and guidance on optimizing your content and that's not a bad idea because you'll know what's search engine friendly. But the job of actually optimizing the website via those plugins is still yours.
Moreover, WordPress is already equipped with all of the essential tools and functionality you'll need to develop SEO-friendly content. So, think of adding title and meta descriptions, different headings, alt text to images, and custom URLs, among other things. But if you choose to take the high way, SEO plugins present some unique tools which you'll not stop using once installed.
Furthermore, with more than 55,000 SEO plugins available on the WordPress Plugin Directory, there's something new added every other day. You may have often googled for the 'Best WordPress SEO optimization plugin' and found many websites fighting for your attention with an SEO plugin for every possible function out there.
With so many tools to pick from, you like many beginners or non-tech-savvy users may be overwhelmed with the variety. Hence, to help you with this here is a curated list of some of the most popular and best SEO plugins for WordPress you can gear up in your kit for boosting rankings and overall performance.
The best SEO WordPress plugins for 2022
Some of the best SEO WordPress plugins that you can consider include:
1. Yoast SEO plugin
Yoast is easily one of the best WordPress SEO plugins, with over 900K users on the internet. Additionally, with an impressive 27,400+ 5-star reviews, you need to look no further than this SEO plugin for WordPress websites.
What makes it so popular?
The answer is simple. Yoast's free plugin brings out some excellent updates, has a fluid interface, and is designed to keep all the users in mind. It specifically helps with on-site SEO, analyzes your web page's content with a score, and suggests ways of improving the readability.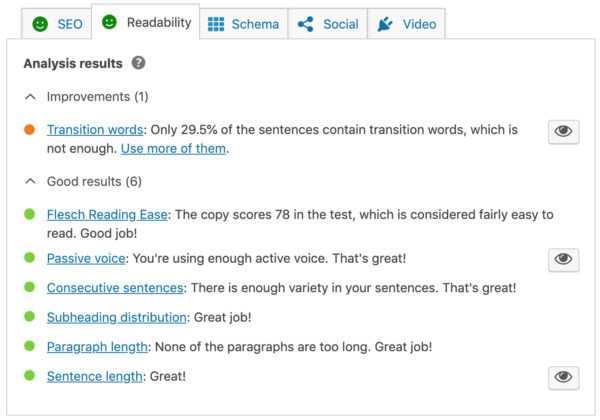 What's cool about the Yoast SEO plugin?
Apart from a readability score and suggestions, Yoast helps with:
1. Focus keyword suggestions
The WordPress SEO plugin pulls out essential keywords that help you rank on SERPs, and this must be from your keyword research. You can combine manual and tool-based research to check keyword rankings of the most important words and phrases your content can shine for.
For instance, if you are running a campaign on healthcare donations, the keywords could be Health and Donations. But the more specific your niche key phrases, the better your visibility in search results.
2. Google results preview
Yoast plugin offers the option of previewing your page snippet on Google search results. You can edit the title and meta description of a page while focusing on relevant keywords.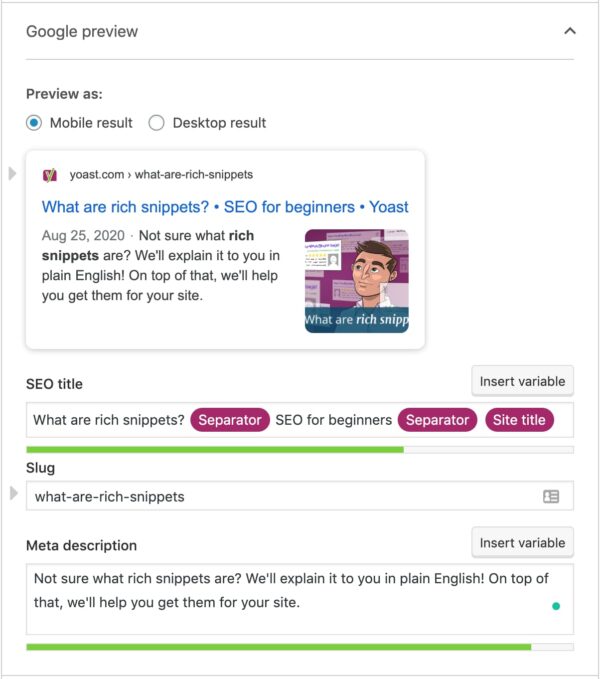 Pricing
You can get the Yoast SEO premium directly from their website, which offers advanced SEO functions like keyword optimization for five keywords per page, preview options for Twitter and Facebook, and suggests internal links for directing visitors to other web pages, all for $89 for one website.
The amount is hence definitely worth the variety it offers. Additionally, the free version is also a great option if you're running a tight budget, as it still does better than other SEO plugins.
2. All In One SEO Plugin (AIOSEO)
The OG of WordPress SEO optimization plugins, AIOSEO, is designed for on-page and technical optimization. Programmers rewrote it in 2020 for improved performance and today it is one of the most user-friendly plugins out there.
You can begin with the Setup Wizard and navigate your general SEO settings in no time.
Additionally, the plugin can help you implement schema markup, create XML sitemaps, optimize metadata, competitor analysis, and much more.
What's on the table?
Tru-SEO on-page analysis

Improves optimization by providing a handy checklist, so you don't have to update the post to change the SEO title, which includes:

Year
Month
Day
Custom fields
Author information

Rich snippet schema

This gives the correct data format for Google, so the content is found on search engine results pages. It also allows you to enlist details for local SEO, which gives your website a ranking boost when people search for businesses or related services in that area.

Basic SEO Woocommerce tools

This allows e-commerce websites to perform:

Individual product page optimization
4. Site audit checklist
The feature runs a deep scan of your website to check its overall health. You can find any pinpricks and loopholes that can pull down your SERP rankings and visibility.
In terms of score, an ideal range would be from 60-80 and upwards for good chances of higher ranks.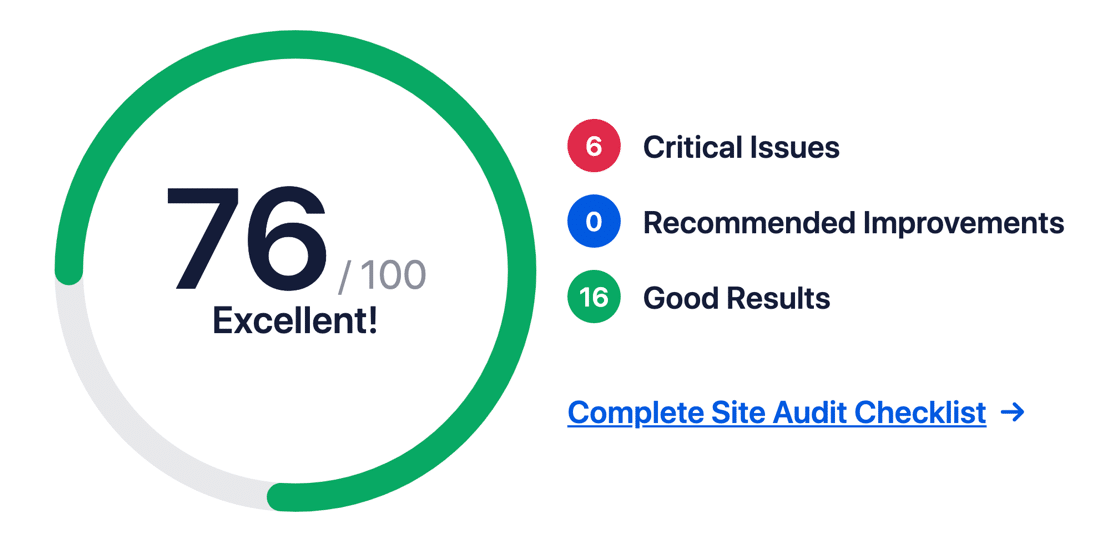 Pricing
AIOSEO has both a free version and a two-way premium SEO pack. You can choose a basic plan at $99 pa or a pro WordPress plugin plan of $399 pa.
3. SEOPress
For WordPress website owners who are new to the world of SEO, SEOPress is a reliable and cost-effective option.
This SEO tool gives access to users in 17 languages, including Hindi and Mandarin Chinese, and it costs $39 for unlimited sites. You heard that correct, and this gives all the other big WordPress SEO plugins like Yoast SEO or AIOSEO a run for their money.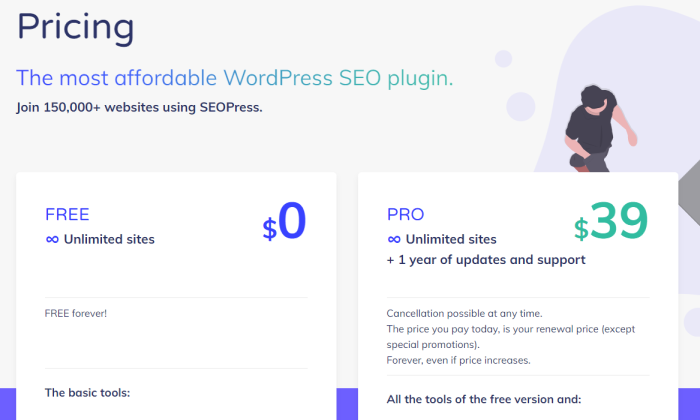 Additionally, SEOPress free version includes:
A configuration wizard to import data from other SEO plugins
SEO Metabox and on-page content analysis for SEO titles and meta descriptions for unlimited keywords.
Twitter and Facebook previews
Options for mobile and desktop previews
Advanced SEO Settings
White labels for your SEO branding
Apart from these deep benefits, the SEOPress Pro plugin for WordPress also gives you additional benefits such as:
Video SEO
HTML Breadcrumbs
Option to add local SEO- add local business schema with your operational information without coding.
Option to add custom rules to the robot.txt files
4. The SEO Framework
The SEO Framework (TSF) is your go-to for a light, no-frills WordPress SEO plugin. It is often considered the best alternative to the Yoast SEO plugin.
Safe to say, it is by far the best WordPress SEO plugin, with over 100000+ installations and a 5-star rating. This is no mean feat for a relatively new SEO plugin when there's intense competition already.
How does it help WordPress websites?
Some unique features of the plugin include:
1. Critical automation
TSF is the only plugin for WordPress with automated generation of meta tags and meta descriptions swiftly.
2. Offers SEO security
TSF is designed to make search engines index your webpage's best version, protecting it from hackers that can potentially delist your site.
3. Multiple checkpoints
WordPress websites undergo 70 checks, and all found issues are listed in the SEO bar. The post-SEO has a colored marking to indicate how close the gap is to make your content SEO ready.
4. Easily customizable
TSF WordPress has two plugins for users. One is the framework itself, and the other is an extensions manager for adding more functions to your existing WordPress SEO plugin.
Pricing
The SEO Framework plugin has an affordable price point than Yoast SEO. It has four options for users- a free version with no ads and pop-ups, and premium SEO pack series like Pro ($7), Business ($17), and the highest one being Agency at $27 a month.
5. Monstersinsight
Monsterinsights is the best Google Analytics plugin with more than 2 million active users. All your SEO efforts will be misguided unless you track its performance. This plugin helps with precisely that, showing the Google analytics data on your WordPress dashboard.
Additionally, if you're new to Google Analytics or find it too intimidating, this is an easier interface to get the required data. Moreover, you can use this plugin to study your keyword rankings using the data from Google search console.
The console is nothing but a free SEO tool to map your WordPress site traffic and maintain its presence on Google results page. It informs you of any errors in crawling the page and pitches in some tips to fix the issues.
So, with Monstersinsight, you can study reports on:
1. User demographics and user reports on keywords, device usage, et al
2. Scroll tracking to map how far your users are exploring your website
3. Google Adsense mapping and more other features.
4. User permissions
5. Tracking the e-commerce sites
6. Tests the site speed and guides you to check and solve the site's performance.
Pricing
Monsterinsights is on the higher end of pricing, with the cheapest option (for 1 site) starting from $199 and going up to $799.
6. Broken link checker
Having broken links on your website can significantly impact your SEO and negatively affect your website's content. Simply put, these 404 error pages do not make Google happy, and hence fixing these must be a top priority for better performance.
However, you might find yourself sifting through all your content for hours to spot every broken link. To avoid this, the Broken Links Checker WordPress plugin is a must-have tool to fix all your internal and external broken links and spot missing images.
It is basically a free SEO plugin by WordPress that seamlessly locates broken links through its scanning feature and displays all the broken links in the dashboard. You can either update the link for better referencing or entirely delete it from the plugin's primary page.
7. ShortPixel
Images are a great way to command a viewer's attention and are considered to be one of the leading factors for web traffic to websites, thanks to Google Images and Indexing.
ShortPixel is one of the best SEO plugins for WordPress that focuses on image optimization and allows you to enjoy all the benefits of the feature like faster page load, boost in SEO ranking, and optimizing server memory.
Moreover, the plugin compresses images and delivers high-quality optimized images in the right format.
How does this plugin help?
1. Automatic and high-speed image optimization
One of the best features of ShortPixel, the plugin can quickly and automatically optimize images. It also offers you types of compressions to choose from, like:
Lossless- Provides the least compression with the best image quality
Glossy- The second highest compression, this setting provides a reasonably compressed and high-quality image.
Lossy- The default setting, this one, provides the highest compression out of the three and significantly reduces the weight of an image.
2. High-quality bulk image optimization
With ShortPixel, you can optimize all your website images at once and at high speed with minimum quality loss. The plugin also provides the select feature for you to choose the images that require optimization.
3. No limit on file size
Unlike most optimization tools, this plugin enables users to optimize images of any size.
4. Thumbnail optimization
Provides special features for optimizing images for thumbnails.
8. Rank Math
One of the most popular SEO plugins for WordPress, Rank Math is a powerful tool that most bloggers and SEO specialists swear by because of its sharp features. It is considered to be the "Swiss Army Knife of SEO tools" as it boasts of a long list of impressive features including:
1. Quick on-site SEO analysis
It is a one-of-a-kind "Site-Wide Analysis" that checks your entire website and generates an SEO score out of 100. The plugin uses over 70+ tests for best optimization and demonstrates a detailed analysis using graphs, and includes passed tests, failed tests, and warnings.
2. Snippet editor
You can edit snippet descriptions and implement Rich Snippets or Schema Markup using the 14 different types of offered schemas to stand out from your peer websites.
3. LSI keyword suggestions
Latent Semantic Indexing keywords can increase search traffic and also improve overall SEO. Rank Math also provides automatic suggestions for LSI keywords that can boost your organic website traffic and search volume.
4. Social media integration
Another useful medium for organic traffic generation, the plugin offers card types and previews for some of the most popular social networking sites- Facebook and Twitter.
5. 404 Monitor for error detection
It notifies you of those parts of your website where users can possibly encounter errors.
6. Optimization of up to 5 keywords
You must target multiple keywords if you wish to optimize your content perfectly, and this is where Rank Math steps in. It optimizes up to 5 keywords, unlike many popular SEO tools that just offer one keyword.
Pricing
The plugin starts with a price point of $59 and goes up to $499 to unlock all agency features
9. Ahrefs
Ahrefs is a comprehensive tool for WordPress users of all scales- businesses to bloggers. The plugin lets you conduct detailed content analysis by studying organic keywords and targeting them for future search results.
Plus points of Ahrefs:
1. Site explorer
Offers its users access to information or data about organic and paid traffic and backlinks.
2. Site audit
This feature of Ahrefs inspects every aspect of the site, from backlinks to keywords at high speed, also known as crawling.
3. Rank tracker
Ahrefs can track your website's rank automatically based on search query results. Additionally, the Rank tracker has other functionalities that include filters like location and keywords that can help you determine your area-specific rankings based on keywords and location.
The tracker also generates weekly and monthly reports for the same.
4. Backlink research
Ahrefs allows its users to check their backlinks. It has the second most active crawler, which translates to a powerful backlink database.
5. Keyword research for ten search engines
Unlike most keyword SEO tools that operate on the metrics and results of Google, Ahrefs supports 10 search engines as traffic is also generated from these engines, some of them being- YouTube, Amazon, Bing, Yandex (Russia), Baidu (China), and Daum & Naver (South Korea).
6. Cellects data
The Keywords Explorer feature of this plugin analyses keywords optimization and ranking, and also generates the data that shows the estimated number of clicks on search results, which can significantly improve your choice of keywords.
7. Content explorer
Another exciting feature offered by Ahrefs is the content explorer feature lets you search for keywords and display the top websites with or related to those keywords.
Pricing
Ahrefs has a range of pricing options in the categories of Lite, Standard, Advanced, and Enterprise ranging from $99 to $999. However, the Ahrefs Webmasters Tools option is available without a charge.
The bottom line
Plugins are a great way to optimize your WordPress website for increased performance and rank higher in search results.
Every website and business has different needs, and you'll need to jot yours down before deciding on which SEO plugins to install.
The list is lengthy, but you obviously won't need all of these. Instead, you just need to identify the plugins that work for your website's requirements as per individual SEO analysis.
You also don't need the Yoast SEO plugin and AIOSEO together. Instead, you need to select just one SEO pack; else there will be a plugin conflict.
With that said, it's time for you to figure out the best WordPress SEO optimization plugin that catapults your website to higher search rankings and more leads.