Free SEO Tips for Beginners | Tips to Kickstart Your Content Journey Disclosed
Crawling, indexing, backlinks, algorithms, and more – are such terms overwhelming you?
If they are, then don't worry. As a beginner in SEO, it's only natural. You are at the right place to understand it better and get SEO tips.
You will have SEO basics under your belt by the end of this blog. Let's start with the basics.
What is SEO?
Search Engine Optimization (SEO) is a process to improve your site's visibility for search engines. It ensures you receive a high quantity of traffic, organically, accompanied by good quality.
And you can know you are going in the right direction in terms of quality if the traffic translates into high conversion rates, leads, inquiries, demos, etc.
Additionally, SEO is a deep marketing vertical. It has a lot of nuanced techniques and requires patience to see results. But remember that even learning and implementing SEO basics can make a lot of difference to organic traffic.
Thus, considering the magnitude of SEO's results, it is worth understanding the jargon.
Why is SEO Important?
Search engines are responsible for the beginning of 68% of online experiences. That is why good SEO can transform how search engines perceive your brand.
So here are some added advantages of implementing SEO tips.
Experience Results without a Lot of Investment
Search engine marketing combines PPC (pay-per-click) and SEO. For a successful marketing strategy, both of them are important.
However, you can achieve the ROI of SEO much more organically and without a lot of investments. So once you understand SEO basics well and implement them with best practices, you will see the results of investing your time and effort.
SEO Helps Enhance User Experience
The process of optimizing your website for search engines involves techniques that will increase user experience as well.
Focusing on SEO will improve page speed, website responsiveness, quality content, etc. These are essential aspects of satisfying your customers when they visit your site.
Thus, such positive experiences will generate traffic and increase web clicks.
Attract the Correct Customers
Search engines determine the kind of content users see. Google, along with other search engines, only wants to provide the best search results.
Thus, search engines will like you when you cater to the correct search queries. In addition to that, you will also get better search engine rankings. After this, it is only a matter of time before the right customers find you.
Additionally, as you can see in the image below, appearing first in the search results gets you maximum traffic and thus higher conversion rates. The numbers drop significantly after the 6th result and further on the second page.
So if you want your target users to find you, you have to appear on the first page.
What Do You Need to Start Implementing SEO Strategies?
You might be thinking that you need to understand SEO on an end-to-end basis to start implementing them. However, that is not true.
As you can see, below is a representation of SEO practices essential to ranking. It also shows what will help further your chances against competitors.
Evidently, essential factors are not too many, and as for competitiveness, we can achieve them too with a little bit of research and understanding.
So fret not! We can help you get started on your SEO journey by understanding the basics and some helpful tips.
With this understanding, here are 10 SEO tips for beginners with which you can start acing your SEO strategies.
Learn How SEO Works
You want to learn all about SEO tips and implement its strategies. Before that, you have to understand how it works. Here is the explanation.
Primarily Search Engines Do Two Things, Crawling and Indexing
In crawling, the search engines release little bots called spiders to search the internet for different code/URLs/content on different web pages.
Once crawled, they maintain a record of all the content, and from here on, it is SEO that determines where your page appears in the search results.
Your ranking will further depend on RankBrain. Google uses RankBrain, an AI-based algorithm, to sort out the search engine results pages. The effectiveness of your content and links are dependent on the keywords. After this, the algorithm decides where you rank. Once the users are on your site and close the page too quickly because they didn't see anything of value, your rank will decrease.
On the other hand, your ranking will increase if users visit your website and spend time on your page.
Understand On-Page SEO and Off-Page SEO
There are many SEO techniques that you can learn. But you should know that there are primarily two broad categories of SEO.
On-Page SEO
When you think about all the optimizations you can do on the website, they are on-page SEO. They involve the kind of experience you provide to the user.
For example, they must be able to navigate content across your site quickly and access it easily too.
Additionally, how fast your page loads and how easily you make search engines understand your content with alt image attributes are imperative to improving page experience. Similarly, user experience, keywords, internal links, headers, meta descriptions, and meta tags are crucial.
However, sometimes as SEO beginners, people assume that if some boxes of SEO are checked, you will see results. That is not true.
Thus, here is a representation of what people usually think on-page SEO means instead of what it accurately means. We will get into each of these topics a little later, but you can notice how SEO is beyond keywords and topics.
Off-Page SEO
Off-page SEO is all the efforts you make to ensure third-party websites notice and talk about you.
Among the popular off-page SEO techniques is link building. That is when you receive backlinks from high-quality websites. When this happens, search engines will trust you more.
Furthermore, other strategies you could use are social media marketing, having mentions across the internet, etc.
Thus, on-page and off-page SEO are essential. Therefore, you need to include both techniques for an effective SEO strategy.
Use Google Analytics Well
Google Analytics is a tool that can help you analyze the user behavior and traffic on your website. It is a free tool that lets you understand this data for the current biggest search engine, Google.
You can understand various factors from Google Analytics. Here are some of them:
Where users spend most of their time
What time are they visiting your site
How long did they stay on different pages, and the pathway to those pages
Using the Acquisition feature, you could understand precisely from where did they arrive, for example, Google Ads, social media, etc.
Audience demographics
Bounce rate
So much more!
Thus, whether you want basic analytics or advanced, the tool can provide all the data.
Along with insights about different metrics like conversion rates and where your users abandon cart – you can rectify pages and improve traffic. You can also analyze the existing traffic and search queries to update relevant content.
Now you know Google Analytics is important to track the traffic information. So if you want to start understanding it better, here is a google analytics course by Google itself!
In addition to that, you can also use Google Search Console to understand how your site appears to the search engines. Register your site, and you can get started on getting these valuable insights.
Do In-Depth Keyword Research and Curate a Strategy
Keyword Research
Keyword research helps you understand what your target audience searches for.
Therefore, by using the correct target keyword with a high search volume, you can reach a large segment of your audience. Remember to start with keywords that have low competition as well. As you understand SEO better, you can try keywords with higher competition.
To help you with this, use keyword research tools such as UberSuggest, Google keyword planner, SEMrush, and others to get started on your research.
Subsequently, you can use keywords throughout your website as long as they are relevant. How can you decide which keyword is relevant?
You should ask yourself if it makes sense to have the keyword on your page or are you stuffing it. If it feels forced and out of context, don't use it.
You should sprinkle different keywords across product pages, service pages, blog posts, and landing pages. At the same time, use them in your meta titles, meta description, and headers.
However, sometimes, SEO enthusiasts get carried away with keywords. Below is a graphical representation of what happens during such instances.
As you can see, when keywords are overused and stuffed unnecessarily, your site gets affected negatively. A perfectly balanced use of keywords gives you an edge in the algorithms, increasing your ranking. Thus, always use them in moderation without going overboard.
User Intent
Always keep user intent in perspective while using keywords.
You can do this by understanding what the user is looking for when they type the keywords. For example, if a user has searched using some keywords, but your web page doesn't provide relevant information, they will close your page. This process will bring down your ranking. And you do not want that.
Short-Tail and Long-Tail Keywords
You should use a mix of short-tail and long-tail keywords in your SEO strategy.
Because short-tail keywords are popular and have a high search volume, long-tail keywords may be less popular but more specific.
Creating content with such keywords can meet your visitor's expectations too. When they type a well-defined search query and land on your site, they will be pleased to see exactly what they were looking for.
Competitor Analysis
While conducting keyword research for your brand, you can gain more information by including competitor analysis.
Here is how you can use them.
Understand the type of keywords your competitors are ranking for.
Conduct in-depth research, and leverage it to get a better ranking.
Learn about their target keywords, and analyze if you can rank for them.
If they focus on some sectors like hospitality that your product doesn't so far, maybe you can reconsider your approach.
Therefore, you can create your content strategy after analyzing a few competitors. You can use tools like SEMrush or Ahrefs to conduct this competitor research.
Write SEO-Friendly URL, Page Title, and Meta Description
Make URLs SEO-friendly by using the right keywords and ensuring they are readable.
You can easily do this by simply paying attention to the URL. Instead of www.example.com/trail_page222301/formpages, make it www.example.com/trial-page/formpage. This way, a concise URL is easy to read and understand for the user and web crawlers.
The Page Title and Meta Descriptions
Page titles appear as the main title in a search result. The descriptions below that title are the meta descriptions.
To attract visitors, both have to be written well. You can do this by providing enough information within them and generating curiosity to make users click on your link.
Furthermore, add relevant headers H1 to H6 as needed throughout your web pages. These headers help the search engine crawlers read your page better.
Learn Why Page Speed Matters
Think about this from your experience. There must have been times when you closed web pages because they took too long to load.
If you intend to increase engagement on your website and reduce bounce rate, then page load time is essential. It is also an important ranking factor.
You can check a website's current speed by using a tool like Google's PageSpeed Insights. If your score is close to 100, you are good to go. But, if it is closer to zero, you have some work to do.
Additionally, remove large files, optimize images by reducing their size, reduce redirects and repeat until you achieve the desired speed.
Also, you should remember that conversation rates reduce as the page load time increases – as shown in the image below. Tackle this head-on using the information mentioned above and work on this crucial feature for user experience and SEO.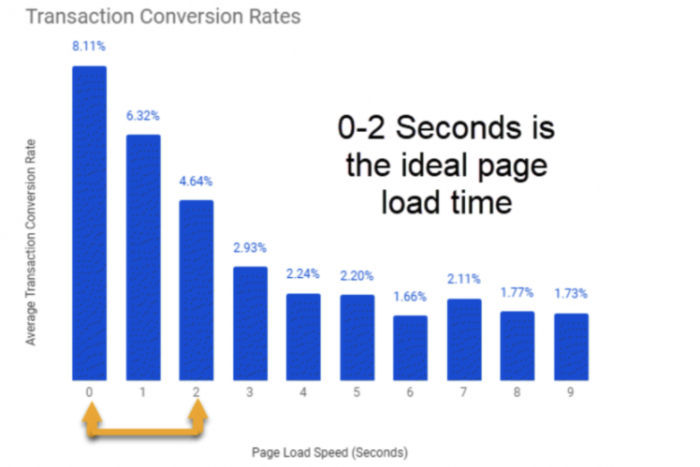 Do Link Building and Understand Its Importance
Link building is a big part of off-page SEO. Because when high domain authority pages can provide external links pointing to you, search engines assume you are a trustworthy website.
Therefore, you must do email outreach the right way to generate these backlinks. Email outreach is when you reach out to reputable websites to provide you with a link or a shout-out on their site. Make sure you approach other sites in a way that provides value to them.
You can also look at broken links from different sites and check if you have a content piece that they can use instead of it. If the requirement is a match, then you earn a link. You can use some popular SEO tools to get this information.
Moreover, you can achieve natural links by creating content that makes users quote your blog post and research data. When you do this, you get backlinks without outreach as well!
Also, you have to ensure you link related articles internally to keep your visitors engaged on your website.
Apart from this, as you focus your efforts on link building, remember that your content must be relevant to external websites. It cannot only exist on their web page for an external link.
Make sure you do not get into the rabbit hole of generating backlinks from sites with low domain authority. It can negatively impact your ranking, and you could even be fined!
Create a Mobile-Friendly Website
A large segment of users accesses the internet through mobile devices. So it only makes sense that your website has to suit their needs, right?
Moreover, users could be even more impatient to seek results while using mobile. Make sure your website is up for the challenge and has a good page load speed.
Also, do not overwhelm the users with ads that make it hard to navigate the website. It will only decrease their engagement on your site.
You should also make the website mobile responsive – your content across your site needs to be easily accessible with a readable font size.
Unsurprisingly, since a mobile-friendly website is crucial to user experience, it is also an important ranking factor. Google is also focusing on Mobile-first indexing. That means the websites that have optimized for mobile experiences will rank better.
You can use Google's mobile-friendly test to check how your website does!
Deliver Excellent Content for Users and Format It for Search Engines
Content is the bread and butter of all your SEO efforts. Thus, your SEO tactics have to begin here.
Besides, quality content can help you create internal links, create opportunities for natural external links and give the user valuable information.
Here is a quote that resonates with this thought.
"[Content Marketing] Is a More Competitive Environment Certainly, but Those Who Have Real Empathy for Web Users and Influencers and Have the SEO Skills to Infuse Their Work with Great Keyword Targeting, Search Accessibility, Etc., Are Going to Have Ongoing Success." – Rand Fishkin, Ceo/Cofounder, Moz
It is entirely accurate. You have to create content for the users, not search engines. You need to understand their pain points and curate the content they are looking for.
Writing with empathy will ensure that you connect with your users. You only have to ensure this content is backed by SEO strategies and helps with organic traffic.
Additionally, creating good content backed by good SEO prevents pogo-sticking. That is a process where users come to your site through an organic search and quickly exit because they don't see anything of value.
You can prevent this by using well-formed keywords and headers in the blog post or landing page that makes your content easy to skim through.
Not to forget, Google loves long-form content. Good quality content that is in-depth and long will drastically help your chances in Google rankings.
Alongside, as you create new content for your brand, remember to update older pages with fresh content. That will help in your website ranking.
Along with content, we've covered headers and description meta tags in the previous sections. However, you can do other things as you become an SEO expert.
Create Breadcrumbs
These are pathways that you can add to each web page. These breadcrumbs improve user experience and can help in navigating the site.
You can use tools like Yoast SEO to add such settings.
Featured Snippets
Featured snippets are when Google decides to show additional content from some websites in search results.
You could get featured snippets from Google with content resources like blogs, guides, landing pages, etc. That can increase your CTR significantly.
Thus, to achieve featured snippets, create content using extensive keyword research, make the content engaging and format it appropriately with headers that make sense.
Pay Attention to Google's Updates
Google has a market share of 85.55% among online search engines as of December 2021. So it makes sense for you to focus your SEO efforts primarily on Google's ranking algorithms.
Additionally, Google updates its search engines to improve search results. So you have to keep track of the significant updates that change the core algorithm.
Here are some of the major updates from the past:
The Panda update in 2011 transformed how to duplicate, and thin content can affect rankings.
Penguin update in 2012 changed how crawlers perceived spammy links and keywords.
The Hummingbird update paid particular attention to keyword stuffing and low-quality content.
Moreover, the websites that didn't comply with the changes were heavily penalized during all these updates. They lost a lot of organic traffic in the process. These brands had to rectify the mistakes and build their website traffic again.
You should also know that Google makes several updates throughout the year. Keep yourself updated through research, Twitter, and Webmaster guidelines to stay on its good side.
Wrap Up!
These are some basic SEO tips for beginners things you can learn and understand quickly to start your SEO journey.
Additionally, you should know that Search Engine Optimization is a consistent process. Thus, you should ensure that you are constantly learning about SEO best practices and closely monitoring your website. You can also conduct regular site audits to understand errors in your website.
These best practices will slowly but surely help you see SEO results and stay ahead of the game. Start with the basics, and soon enough, you will be an SEO expert!