Digital marketing is a rapidly changing landscape, and SEO plays a crucial in the digital growth of every business. It is nothing but the sum of all tools and practices that increase a website's organic traffic. So, the question that arises is, what is an SEO agency and how does it help?
Your business, like many others, requires a strong web presence and needs to rank high on Google and other search engines to get more traffic to your website. This is often where most businesses put in feeble marketing efforts, not because they don't want to be at the top but primarily due to a lack of digital know-how.
This is where an SEO agency comes in and proves to be the best choice for increasing visibility and authority.
What is an SEO agency?
An SEO agency is tasked with ensuring client websites rank high on search engines like Google to grow a business' online presence with relevant traffic.
But how do they do this?
An SEO firm uses many specialised marketing strategies and tech tools to improve your overall web presence and generate leads. These, when bundled up, are called SEO services. So, a few broad strategies of a professional SEO company would utilise, include:
On-Page SEO
Off-Page SEO
Technical SEO
Additionally, SEO companies have the expertise and specialised processes run by a highly experienced team. They collectively deliver efficient results and create more value than a website without experts working on their SEO.
In a nutshell, an SEO company thus provides your business with insights on developing a competent SEO strategy. It also takes charge of rolling out the devised plans on your behalf. So, since choosing an SEO company can be a make-or-break decision for your website, you must spend time exploring its intricacies.
To help you with this, we answer questions relating to the core functions of SEO companies and how do you zero in on one so that it caters to your specific needs. So let's read ahead.
What are the typical services of an SEO Agency?
SEO services are designed to optimise websites (including content, backlinks, et al.) to boost search engine rankings. As such, SEO experts have a long list of tasks to design result-driven SEO campaigns; a few of which we list below.
However, a point to note is that not all SEO companies may offer a few or more of these services.
1. Analyze your website structure and audit
Site structure analysis (aka website optimisation) is usually one of the first steps in an SEO campaign. The process doesn't entail rebuilding your site architecture but re-modelling or tweaking areas to boost SERP rankings.
To do this, SEO agencies follow best optimisation practices, including detailed keyword research and link building, to boost your site's speed and improve search engine visibility since improved and fast display is a vital element for ranking.
Additionally, a good SEO company will also have prior experience in website analysis in terms of relevant keywords and content as per user intent. Since search engines prefer websites that are made for users' needs and questions, the SEO agency will create and categorise every web page as per overall business goals and customer needs.
They work on the following critical elements during a website analysis:
404 or other error pages- these indicate to search engines that your site isn't trustworthy to rank higher.
Research of target market and competitors- SEO agencies research your target audience, their browsing patterns, and user expectations. They also look at the top sites for researched keywords and design your website emulating them.
Internal linking- is an excellent opportunity to nudge website users towards other areas of your website.
The URL structure- lastly, your website URL needs to match the chosen website structure.
2. Work to improve On-Page SEO
Your website's SEO agency works towards populating it with the right kind of content. Staying relevant is key for featuring in the first SERP. For this, you'll need a wide range of digital marketing strategies, including blog posts, case studies, webinars, white papers, etc.
Apart from that, a few critical design-specific points on the checklists of On-page SEO agencies include:
Choosing the right keywords- Since SEO runs essentially on the good-old keywords.
Optimising title tags- This helps Google identify the context of your content via the page titles.
Optimising meta descriptions- This acts as bait for a user to click a weblink. The meta description should have the keywords for users to know your content is what they want to see.
Adding visual elements like videos, infographics, vectors, etc.- Gives users a break from long-running texts and usually conveys information better than words, and often helps reduce bounce rate.
The SEO team studies these elements and weeds out inefficiencies that can affect the entire website and rankings. A few common steps that they take in such SEO efforts include:
Clears duplicate content and introduces new information.
Optimises landing pages with keywords and high-quality marketing copy.
Runs a deep keyword research to identify what all can work for your website.
3. Plan Off-page SEO strategies
Off-page SEO works to establish your overall brand value and authority with external efforts etched outside of websites.
Brand value creation and perceived trust take time and are achieved through a long-term strategy. So, when you hire an experienced SEO company, they'll clarify that off-site SEO is both labour-intensive and expensive.
Additionally, SEO professionals these days would also include tactics like PR marketing, influencer promotion, forum, and guest posting to establish your brand's digital footprint. These improve your positioning in search engine results and generate referral traffic that is not directly part of your SEO.
To add to that, a few other powerful Off-page tactics deployed by SEO companies include:
local SEO for brand discovery
shareable content for social media buzz
responsive customer service
guest posting
external linking
Thus although Off-page SEO is organic in the true sense, good SEO companies know to manoeuvre the direction of traffic and brand recognition by harnessing the social media limelight and creating a conversational and fun image.
4. Content analysis
One of the essential and basic SEO services- content evaluation, is a window of identifying new chances for attracting more relevant traffic and increased revenue.
A good SEO strategy involves identifying some common issues with existing content like:
Poor choice of target keywords that search engine crawlers miss
Unavailability of thorough information
Poor quality of too difficult content
Content analysis thus discovers gaps that might be silently hindering your organic ranking on the search engine results page.
5. Setup of SEO tools
There's a jaw-dropping number of tools out there. But most may not be of relevance to your needs. So, when you hire an SEO agency, you task them with scouting the best tools and techniques that are tailor-made for your business. They pick the right tools for reporting and monitoring to scan your site at regular intervals and generate status reports of your SEO.
From onsite content optimisation to monthly analytics reports, tools like Google Analytics and SEMrush; all help you keep track of your executed plans and their outcomes for regular assessment.
Thus, a competent SEO strategy should have the space to monitor rankings and keywords to get an overview of how successful your SEO campaign is and the scope of further improvement.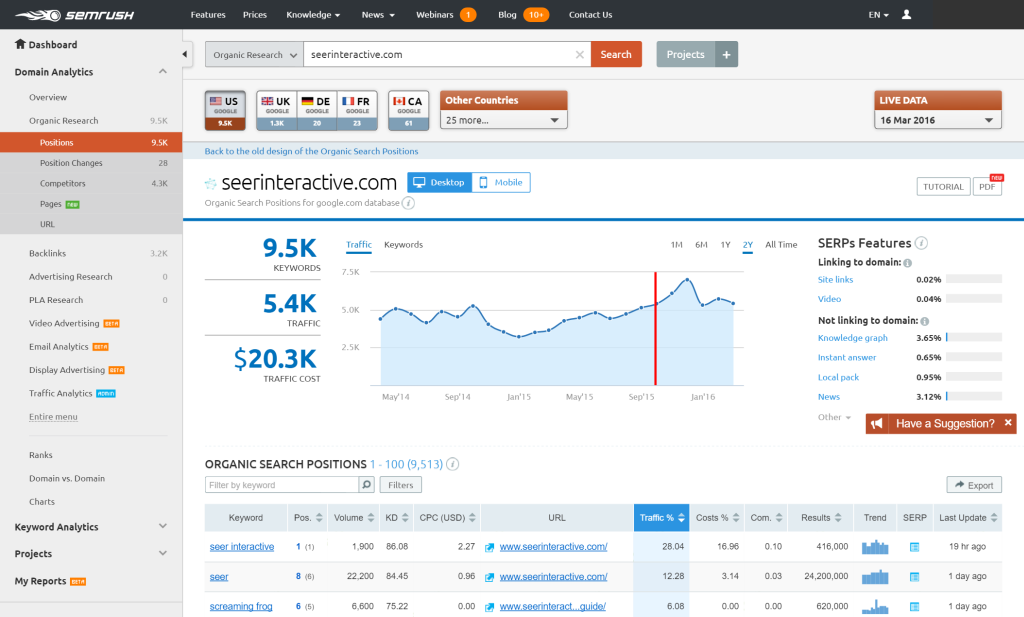 How do SEO companies benefit a business?
With the above ambit of SEO services, you can expect many benefits when you choose the right SEO company as your partner. Some of these benefits include:
1. Bringing in the audience of your choice
SEO agencies target high-intent keywords that users search in large volumes. This boosts your website traffic as optimised content climbs up.
You must remember, Google is constantly working to show users what they want, so matched content with intent goes a long way in driving organic traffic.
2. Boosting your search engine ranking
With off-site and on-site technical SEO services, an expert SEO company can carve your way to the top of SERPs. They first gather solid keywords and then optimise your website architecture to let google spiders crawl your website results.
With a top SEO agency at your service, your website thus will be on par with top spot holders as your SEO strategy checks off all the right boxes of competition analysis, fast load speed, and informative content marketing.
3. Gives you the edge of experience
An SEO company is your best bet for an excellent long-term search engines ranking. You may skim and research through blogs (like this one) for knowledge on good SEO techniques, but practical experience beats online research any day.
So, rather than having hit-and-miss strategies in-house, approaching an SEO company that works with clients across different industries gives your website the professional touch and increase your visibility. Not to forget, the SEO agency's seasoned hands can also sail you out of unexpected algorithm changes or goals rebranding, as they've done all of this before.
4. Lets you focus on the business
Outsourcing this massive load of website optimisation to an SEO agency will let you focus on what you do best- run your business with utmost focus.
Knowing a group of professionals are handling your website content and link building is a significant relief as your internal team need not micro-manage the performance but only work on the feedback the SEO company provides.
How to find the right SEO company?
Now that you're aware of the multifaceted benefits of an SEO agency, it's time you know how to go about finding the SEO company for your liking.
Since there are many SEO companies, and choosing 'the right one' may be more confusing than ever, considering the industry is worth more than $80 billion. You must also be careful to identify a legit SEO agency, as there's a long line of organisations claiming to be the best, often promising overnight results with low investment.
Hence, you must consider the process similar to any business commitment you'd otherwise make, like hiring an employee or investing in an asset. Additionally, you must devote enough time talking to the shortlisted ones and touching upon the following point before announcing your favourite SEO company.
1. Past projects
This is your cue to always ask for previous client case studies to establish the credibility of the SEO company.
You should also go over their websites and see testimonials and enquire first-hand if they've helped other companies find their place on the first page of search results.
2. Customized plans
An SEO company with cookie-cut plans like "grande/premium/regular" is a red flag. All businesses are different with varied goals, and if an agency puts you in a group without assessing your needs and potential, they are not ideal.
Moreover, it's always good if a company proves that they have spent time researching your business and the required milestones to get higher SERP ranks. So, that's what you need to look out for.
3. Modern tools and tech
SEO services are constantly updating, if not changing. A company with outdated techniques or case studies may not be able to help you grow adequately. These include website structure planning, back-end coding, social media-embedded content marketing, and strategic keyword research.
4. Set SEO contracts in place
After you decide the best one for you, it's essential to draw up a specific contract with desired deliverables, reporting frequency, and pre-decided fees along with due dates for a smooth relationship with the SEO company.
You're all set!
With the correct information at hand, it's now time for you to look for the best SEO company for your website's future ranking. We'd suggest choosing an agency that offers a comprehensive SEO strategy plan and not in fragments.
Additionally, a few mistakes to avoid in the process of choosing the right SEO company would be:
avoiding black-hat SEO agency
only looking at lower price tags and not value-creation of the SEO company
hiring an inexperienced company with tall talks and lofty promises.
Lastly, remember good SEO services take time to develop, and companies that treat your website as their own are worth placing your money on.