Have you recently decided to build a website and looking for the best SEO services? Maybe you're trying to find suitable techniques to hit the perfect search engine rankings.
Given the size of the SEO industry in the UK, the idea of the "best" SEO services remains subjective. But your search introduced you to two types of search engine optimisation techniques—white hat and black hat SEO. But you're confused about the best choice for your website. To put it simply, white hat SEO ethically optimises your online visibility, whereas black hat SEO tactics don't.
The major difference lies in the latent misconceptions about the search engine crawler. Google doesn't crawl every website page automatically or index it instantly.
The crawler is intelligent and can pick up black hat SEO tactics. Hence, you must utilise suitable digital marketing methods to improve search engine rankings. Here's everything you need to know about white hat SEO and black hat SEO.
What is White Hat SEO?
White hat and black hat SEO are two different things!
Any approved search engine optimisation tactic is white hat SEO. It organically and naturally increases the website position on the search engine result pages (SERPs).
SEO experts will always use white hat SEO tactics to improve your search visibility. It features widely accepted legal methods of using high-quality content to achieve organic traffic. White hat SEO uses precise search engine terms without tricking the Google crawler.
In short, white hat SEO doesn't use payment or any tricks to help your website rank on search engines. A few examples of white hat SEO services are:
It offers authentic content and good-quality services
Your website will load faster and be mobile-friendly
The users will find your website easily navigable
It does not use irrelevant keywords
Pro tip: You cannot do SEO without using high-quality content.
What is White Label SEO?
Also known as SEO Reselling and Private Lable SEO, White label SEO combines two crucial concepts: Private Label/White Label and SEO. It refers to the services you offer under your brand that other companies produce. Indeed, SEO reseller packages have 14.6% higher closing rates.
Essentially, a white label SEO company will sell services produced by another SEO agency. White label SEO feeds on the sum of changes you make to your website through white hat SEO.
Overall, white label SEO can help grow organic search traffic for websites and enhance an agency's link-building opportunities.
Imagine this – You have an agency offering creative design services, but your client wants to run an SEO campaign along with your services. That is where private label SEO comes in – You hire another digital marketing agency to help with the campaigns.
Benefits of an SEO Reseller
A proven process of white label SEO should handle the work by producing high-quality campaigns without using black hat SEO and unnatural links.
Are you thinking of using this service or providing such a service? Either way, joining such a program will offer you benefits like:
Expansion of your agency recognition
Cost-effective growth
Industry expertise and experience
New source revenue
Transparent communication
Credibility and experience
Pro tip: The white label SEO pricing will be more than GBP740, depending on the SEO provider. Or, it could have similar pricing as other SEO services.
What are the White Hat SEO Techniques?
Now that you know what white hat SEO means for search engines, it's time for you to delve deeper into the techniques used. Indeed, if you implement these techniques given by SEO agencies, your website will rank higher on search engine results.
Using Quality Content
Usually, you use engaging and readable content to attract the reader. Its sole purpose is to intrigue your website visitors while focusing on gaining the trust of the crawler. You can use rich snippets on your website as it's a crucial element in today's SEO.
Remember: Quality content is king!
Injecting Relevant Keywords
Use an enhanced research metric to find relevant keywords for your page content. It's a mandatory component of white hat SEO. So, use the best keyword tools to find primary, secondary and supporting keywords for your content. Also, implement it on the page titles and metadata.
Remember: Keyword stuffing is a black hat SEO practice.
Hyperlinking Authoritative Inbound Links
Through the use of authoritative links, you can organically gain website visits. This technique is crucial in your SEO efforts as it tremendously impacts your overall SERP rating.
Straightforward Website Navigation
Using white hat SEO helps make your website user-friendly and scannable. Indeed, the visitors will not bounce off your page due to the faster loading times. This tactic uses technical SEO to help retain the user experience and enhance functionality.
Bonus tactic: Lean code is a semantically structured markup language that aids search engines to understand your pages better.
Why is White Hat SEO Important for Search Engines?
It is crucial for site owners because it ethically optimises the website. Use this tactic to enhance your website ranking because:
Focuses on bringing human audience and organic traffic
Follows all the search engine guidelines and adheres to the crawler's requirements
Helps your website reach a long-term goal
Using authentic strategies will make the search engines less chaotic. Indeed, breaking the rules has become the new norm, but the internet would crash and burn without them. This SEO is something that will not jeopardise your rankings.
As a website owner, you should honour this and utilise the proper techniques mentioned above.
What is Black Hat SEO?
Black hat SEO techniques are unethical and violate the search engine guidelines. Any SEO tactic that uses deliberate manipulation of the search engines comes under the ambit of black hat SEO.
Black hat SEO refers to using unrelated and irrelevant resources to rank higher on the search engines. The black hat tactics will initially increase your site rankings through paid links and other methods. But you will soon get blacklisted by Google and other search engines for violating the terms.
Black hat SEO exploits web page rankings and uses disapproved practices. Some examples of this SEO strategy are:
Content automation
Link schemes and manipulation
Cloaking
Keyword stuffing
Doorway pages
Do you really want to gain webspam or bot traffic after working so hard on the technicalities? Everything that happens under black hat SEO is against what the search engine stands for.
The result might even get your website and affiliate links banned from Google. Hence, avoid black hat SEO at all costs. A website created with this SEO strategy will be of no value to the visitors, enhancing your discoverability.
Black Hat SEO Techniques to Avoid
When you start doing SEO yourself without knowing the difference between white hat SEO and black hat SEO, there is a possibility of failing. Ensure to avoid black hat techniques like:
Using Keyword Stuffing
Implementing Content Cloaking
Publishing Bad Content
Link Farming
Meta keyword stuffing
Article spinning
Using automated queries on Google
Always refrain from hiding masked content, placing keywords unnaturally, buying links and using electronic bait on your website. Indeed, doing so can enhance your rankings, but it'll not become fruitful in the long run, and the ROI will be less. You will also encounter risks like algorithm changes and manual penalties.
Remember: If you come across these tactics on your website, you should report black hat SEO, or it will eventually affect your SEO campaign.
How to Classify SEO as Black Hat?
These tactics are evil for site owners as it hampers the credibility of your website. Google and other search engines have guidelines that help create streamlined content for users.
You can only classify SEO as black hat if:
It uses manipulative techniques
It violates all of the search engine guidelines
You get quick wins from this strategy
In short, if your website uses unorthodox link building services with low-quality content and hidden text on a marketing channel, it is classified as black hat SEO.
BONUS: What is Grey Hat SEO?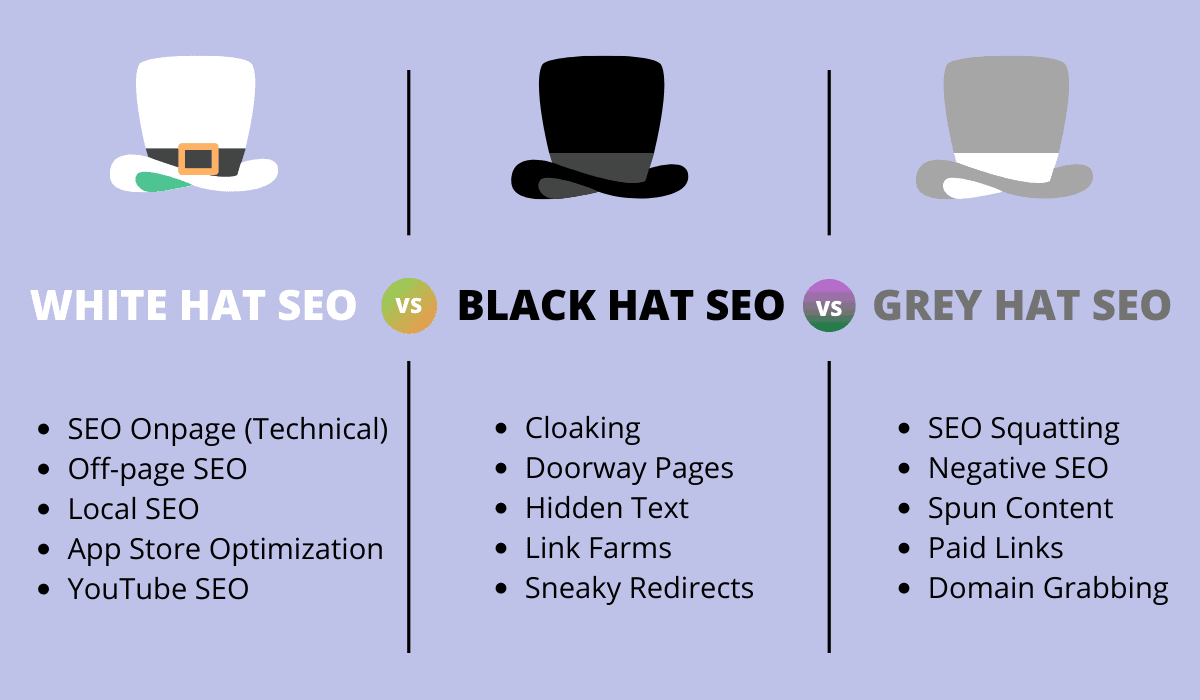 What happens when you mix white hat with black hat SEO?
According to  John Andrews, grey hat SEO is hard to define. It is not an elemental amalgamation of white hat and black hat SEO, and neither is it something in-between. But rather: "The practice of techniques or tactics that remain ill-defined by published content from Google and remains debated or disagreed by reasonable people on how it supports and contrasts the guidelines."
Even then, grey hat tactics combine white hat and black hat SEO, making it riskier. It exploits the search engine guidelines and increases your website ranks like the black hat tactics.
You might not get flagged for using this technique because every black tactic masquerades as white. But, avoid it because it only offers short-term benefits.
The Final Verdict
White hat and black hat SEO can enhance your search engine results, but only one of them is ethical.
Content Marketing should avoid tricks intended to harm Google's guidelines. White hat SEO targets human users to enhance your website page's rank. On the other hand, black hat methods use negative SEO tactics to trick a Google employee into improving search rankings.
SEO can make or break your website. It can help or hinder your website credibility. Your website will succeed if you use white hat techniques because it is a powerhouse of:
Delivering content for visitors
Providing relevance for customers
Facilitating click rates
Enhancing visibility
Offering conversion opportunities
These are all business builders, whereas black hat only focuses on short-term goals. Not only will you incur fines, but your website has the potential of shutting down. User experience will be insufficient due to the minimal off-page SEO techniques, which lead to the loss of conversion rates due to website bounces.
Now that you know everything about white hat and black hat SEO, are you ready to choose the right one?