You've finally decided to take the plunge of launching your new website. Now picking your domain name is one of the first things on your checklist.
This can be quite a task as choosing domain names that match your business values and the brand you aim to create, keeping in mind also search relevancy, can be challenging.
Not to forget, a good website name can highly influence your SERP position on Google or other search engines, which makes it very important.
Considering how important it is for your business, let's find out how to choose a domain name for SEO to carve a credible brand with website domain authority.
What is a domain name?
Domain names are the addresses of websites on the internet. It's the specific spot where search engines send users to answer their queries. They represent a bunch of IP addresses.
A good example is microsoft.com which is a root domain name with a whole set of other web pages called subdomains or subcategories. So, a typical domain name structure includes:
sub-domain
domain name
top-level domain (aka domain extensions)
The last two components together consist of your root domain.
Why is your domain name important?
Your domain name is essential because it's the first impression on users. It's the first sign of your presence shown on a search engine. So a good domain name reflects a professional website and makes a great impression.
Additionally, a great domain name adds to your brand value. Simple and short website names are great for word-of-mouth advertising. They carry a lesser risk of being misspelt and make it easier to advertise and communicate. Moreover, a good domain name can also increase your SEO results and boost organic traffic.
To understand this better, let's see the ways an SEO-friendly domain name affects your direct traffic and how to choose a domain name for SEO.
How to choose a domain name for SEO?
Your domain name does not directly influence SEO. However, its elements can influence your ranking on search engines. Hence, you can pick the right one by deciding on a brand or keyword domain name. But a quick tip: a brand domain name is always a good call.
1. Place your brand in the domain name
Think of the big companies like Apple, Microsoft, and Target. They're not exactly conveying their business because it's the brand that does the talking.
Thus, brand names that resonate among customers are the ones that click. Your name could slightly hint at the service, like Netflix or a random name off the directory like Apple. Either way, you're attaching new meaning to that word among audiences.
How to choose SEO friendly domain name?
Decide on a simple, catchy word that is short and makes a memorable domain. Up to 17 characters are doable, but there's no technical reason behind it. Short domain names don't affect your Google ranking factor directly, but they can influence user experience as they are easier to remember.
If your domain name is too lengthy, the chances of users returning fall, and you lose valuable leads. Another possible disadvantage can be that your users might take your site to be a spam website which could seriously affect your click-through rate.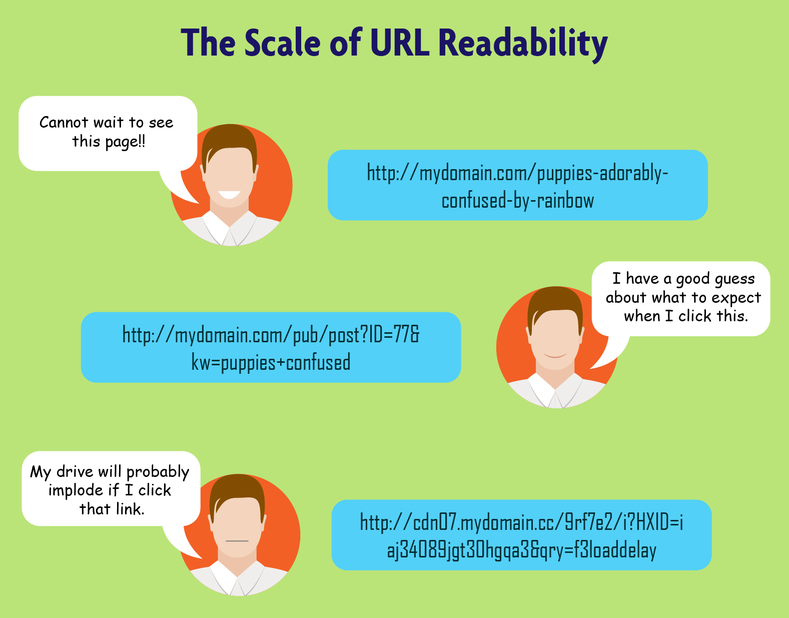 Additionally, when thinking of a good domain name, you must keep in mind some simple tips.
Put your creative hat on- come up with new and good words that vibe with your business.
Use exciting and unconventional words for your brand- For instance, L'oreal is closely based on the Latin meaning "made of gold".
Use an SEO tool– You can run your initial keywords and brand ideas through domain name generators to arrive at a relevant domain name.

Source

Use niche words and phrases like Rare Beauty to help users understand what your business offers.
2. Avoid exact match domain names
An exact match domain name or EMD is the business name closely similar to search queries. For example, the domain bestbouquetshop.com for a florist website bears common keywords that people usually search for. It is thus created with the assumption that naming your websites in such a manner would drive more traffic.
However, while this attempt to trick Google's algorithm may seem like a suitable domain for SEO, it is actually not. Instead, your website with exact match domains may appear as spam on Google or another search engine which will prevent visitors from clicking on it. This will result in a significant drop in ranking.
Instead, a good domain usually uses a unique company name and stays far away from shoehorning exact match domains that may be a lucrative search term on Google.
Hence, a florist domain should be something along the lines of petalsofspring.com. It is a unique name with a brand potential to ace search engine rankings.
3. Use top-level domain extensions
TLD is the domain name extension (or suffix) that will help your website rank. The part that comes at the end, like pizzahut.com or un.org, needs to be carefully chosen based on your business type or even the geographical location. However, of all the extensions available, the .com is the most favoured extension for businesses or blog websites.
Nevertheless, other popular standard domain extensions include:
.net- derived from 'network', this top-level domain is for websites aimed at networking services such as docusign.net
.org- websites of non-organizations. Example: worldwildlife.org
.edu- Mostly used by educational institutions like princeton.edu
Ultimately, choose your ideal top-level domain as per your site's relevance.
However, keep in mind that you may not find your exact new domain .com name as it's widely used. Hence, you may have to be open to switching to .org or .net domain extension if needed.
As mentioned, you can also opt for a location-specific domain extension like .uk, .ca, or .au. But do remember that such country code domains majorly affect your international visibility as most of your traffic will be from that specific country in the domain name and lesser from foreign locations.
4. Remember to avoid trademark domain names
There are many giant companies with established brand names. As such, if you're in similar lines of business, there may be instances of some keywords overlapping.
So, no matter how good it may sound, steer clear of using trademarked brands in your root domain. By just placing reputed brands in the domain name, you can attract a heavy penalty or other legal problems.
Hence, as a safe practice, run a check of any registered trademark of your chosen name to avoid trademark infringement.
Also, legalities aside, your brand has to be promoted across socials and other marketing channels. This is yet another reason why it's not good business practice to have a name similar or exact to an already available brand.
In fact, it defies the whole point of creating a brand, i.e., a unique identity.
5. Create SEO-friendly URL structures
The protocol, domain name with top-level domains, and proper permalinks form a typical URL. Constructing relevant URLs is a part of your domain SEO, and it includes making the link as relevant as possible.
In the initial stages of building your website, we recommend zeroing in on a defined structure for all your website links. This holds good even for already up-and-running businesses.
The URL always begins with the root domain of your website, so you'll need to set a standard system for the elements that follow it.
But why optimise your URLs?
One of your aims is to present readable and straightforward URLs that lets users quickly know what the site is about, thereby making them click on such pages.
Remember, Google cares about what users see, and you must care about it too. To understand this better, consider the second example of the florist (petalsofspring.com). Here, as a user, would the following URL directly inform you of the web content?
www.petalsofspring.com/plants/indoorplants/succulents/jade
It sure would!
The link tells us the page has categories on indoor plants with a section on succulents and, finally, the plant you wish to see and, hopefully, buy.
Thus, helping your users navigate across pages in such a manner is vital for both conversion and marketing. Not to forget, Google needs to know what every page in its index contains before putting it up in search results.
So, in a nutshell, SEO-friendly domains give your website a boost in terms of search engine ranking and also increase clicks and sales.
6. Use broad keywords wisely in your domain name
Keywords are a significant part of search engine optimisation. So when it comes to choosing a domain name for SEO, it only makes sense to have a keyword-focused domain.
Keyword domains were a thing, but there's a fine line between using relevant keywords against a domain name that looks full of targeted keywords.
As previously explained, you need to stay away from such spam-like domains that affect SEO results, even if that means dropping some apparently relevant keywords from the site URL. Always keep in mind that this will help you not be a victim of Google's exact match domain algorithm.
So, to put it in a nutshell, choosing a keyword domain name is a gamble you're better off without. Google may treat the website as irrelevant content, and customers will never discover you.
7. Avoid hyphens and numbers in the domain names
A top domain name of your choice may already be taken. Or your domain name may have two words. In both cases, you may think of using a hyphen or placing numbers.
But try and think of the domains of high-quality websites or top companies. You'll not find any joiners or numbers in their root domain names. This is because they wish to avoid the unprofessional appearance of hyphens and numbers on search engine results.
Another significant reason is that hyphens in your domain can be easily categorised as spam, just like exact match domains.
For example, consider face-book.com or google-store.com. These are clear cases of untrusted websites, and you wouldn't want your domain name to be on such a list.
Final words
There's a right domain name for all websites, but it depends on choices. SEO experts say your domain name itself is not considered a Google ranking factor, but domain SEO activities like including readable elements, avoiding keyword stuffing, and adding suitable top-level domains can help your site feature higher in google search results.
This task, however, isn't easy, but the specific domain SEO tips listed above could help you figure out the best SEO-friendly domain name for your website.
Having said that, domain names
only work in a long-term SEO strategy and don't give you soaring ranks by themselves. So, don't spend more time than the required when coming up with a domain name.